Art is often argued to be undefinable but at times Art is considered as the process or product of deliberate arrangements of elements in a way that appeals to the senses or emotions. Art aims to represent the inward significance and nature is its model, as once stated by Aristotle. The art dates back to the Stone age, its evolution across the various ages is a great subject; Bronze age art, Iron age art, Medieval art, the Renaissance, Post Renaissance art, Modern art and Contemporary art. From the 14ththrough 17 century, Italy underwent an unprecedented age of enlightenment known as the Renaissance. This period saw increasing attention to cultural subjects like art and architecture. Art encompasses numerous categories: Traditional category include literature (poetry, drama, story etc.), performing art (dance, theatre & music), visual arts (painting, drawing, sculpture,), decorative art (product design, furniture, mosaic etc.), architecture including interior designing, ancient art, traditional folk or cultural art, graphics & digital art. Modern art may sound like the art of modern times but in reality, it is the art that started the 19th – 20th century. Modern art can be traced to the Industrial Revolution. Contemporary art is also known as the art of today, but it started in the 1960s–1970s0's. Street art on the other hand started in the1980s with the rise of graffiti.
The beauty of art is that it speaks when words are unable to explain. While Sustainability is a real challenge. It requires reconsideration on how we consume, manufacture and design art. Art projects that engage with sustainability offer a combination of critical and creative thinking that hatches out magical wonders. Art and Sustainability share a long history of considering the thematic perspective (visual art). There are around seven types of sustainable art, these include Bio art, Closed-loop fashion, Eco-design, Ecological art, Land art, Renewable energy sculptures and Upcycling.
Bio art is a contemporary art form that uses scientific methods for artistic subjects. It makes up an amazing combination of art and science. It is changeable and takes a different form every day since it is affected by light and heat. The first to draw biological images was Alexandra Fleming. Penicillin is used for treating various diseases and infections. Scientists had to do a lot of work before it could become available for general use but technically it was Fleming who discovered it even though by accident. He used to draw by using bacteria and produce paintings by colouring some bacteria using natural pigments. Bio art became popular by the end of the twentieth century by the works of John Davis and Eduardo Kac.
Land art or Earth art was a part of a conceptual art movement in the1960ss and 1970s. The most famous land artwork is Robert Smithson's Spiral Jetty, an earthwork built out into the Great Salt Lake in the USA. While the UAE has made most of its wealth through oil reserves, Dubai has become an international architecture and infrastructure hub due to its rapid pace of development. The Palm islands are often referred to as the 'eighth wonder of the world', these are the largest man-made islands in the world and hence take land art to a whole new level.
Closed-loop fashion is the idea of creating a piece of clothing that can be transformed, reused and recycled even after its life cycle has ended. By creating a closed-loop within the manufacturing industry, clothing brands can bring sustainability into fashion. Fabscrap, a New York-based non-profit company was created to meet the city's commercial textile recycling needs. The company works with fashion brands like Oscar de la Renta, Marc Jacobs and Lafayette148. When a company is interested in Fabscrap's service they can sign up online and fill bags with their unwanted textiles. Which are then collected by the organization. Scarlett Yang after studying fashion for five years at Central Saint Martins realised how much material waste is generated within the fashion design projects. She used algae extract and silk cocoon protein to create a dress that grows over time, changes depending on the season and geographic region and can decompose in water within a day. Algae filled walls are a new technology for producing green buildings. Algae are like bacteria everybody wants to get rid of, but on the other hand, they contain chlorophyll and hence can photosynthesise. In Victoria and Albert museum hangs a large green chandelier called Exhale. It is made up of seventy veined plastic leaves that contain green microalgae whose photosynthesis absorbs carbon dioxide and releases oxygen. Algae-filled walls is a new technology for producing energy empowering green buildings. The BIQ House in Germany enhances the concept of Renewable energy structure. It was opened in the year 2013 and is the first algae powered building. The WaterLily system is an algae-filled structure attached to the facade of a building. Designed by the Italian architect Cesare Griffa, this system can quickly grow and harvest microalgae to help fight climate change and create new products.
Eco-design is both a principal and an approach. It consists of integrating environmental protection criteria over a service or product's lifecycle. The main goal of eco-design is to anticipate and minimize negative environmental impacts. Green art is the practice of using environmentally friendly, non-toxic and natural materials. With the rise in climate change, many Eco-artists have sprung up by engaging with the "reuse, reduce and recycle" slogan through their craft. On a larger scale festivals such as the Seattle, Recycled Arts Festival have been initiated over the years. Artist Von Wong and non-profit organization Zero Waste Saigon worked together to create a large-scale installation that highlights the consumption of single-use plastic. The process of reusing or repurposing materials to create art began with Pablo Picasso (1881-1973) who specialized in collage art. Other artists like Marcel Duchamp (1887-1968) and Robert Rauschenberg (1925-2008) used objects like bicycle tires and street signs as art pieces. Through these artists, recycled art or junk, art gained steam. Japanese artist Hiroshi Fuji has been named as a "serial recycling artist", and has made many large scale installations using thousands of recycled materials. His work 'Jurassic Plastic' features a beautiful installation of dinosaurs and animals made from unwanted plastic toys. Japan has been leading the upcycling movement, since the 15th century. Kintsugi is the repair of broken pottery with gold. Furoshiki is the art of Japanese fabric folding as a way to protect valuables but it has recently caught on as a sustainable and beautiful way to carry items and wrap gifts. Face masks have helped slow down the spread of Coronavirus by disposable face masks have mostly ended up in landfills and oceans. Haneul Kim, a designer from South Korea seems to have found a way to divert what has been happening for over a year. He collected thousands of masks from his university campus and turned them into trendy stools. The use of e-scrap as a creative expression has boosted the idea of the present structural art.
Coffee as we all know is one of the most favourite beverages all over the world. It has numerous benefits to both mind and body, it may sound unusual but coffee is also used in art. The art of Coffee painting, although seems to fit the modern world, it had already been used centuries ago. It began when Europeans started to use coffee to keep bugs and ants away. They used to draw on dishwares etc. this acted as a repellent and then slowly became an idea of art. As Europe started to get colonized and widely use coffee, people started looking for ways to develop art. On the other hand, Chinese artists used tea. Godfrey Caleb and Karen Elard are some of the artists who use coffee.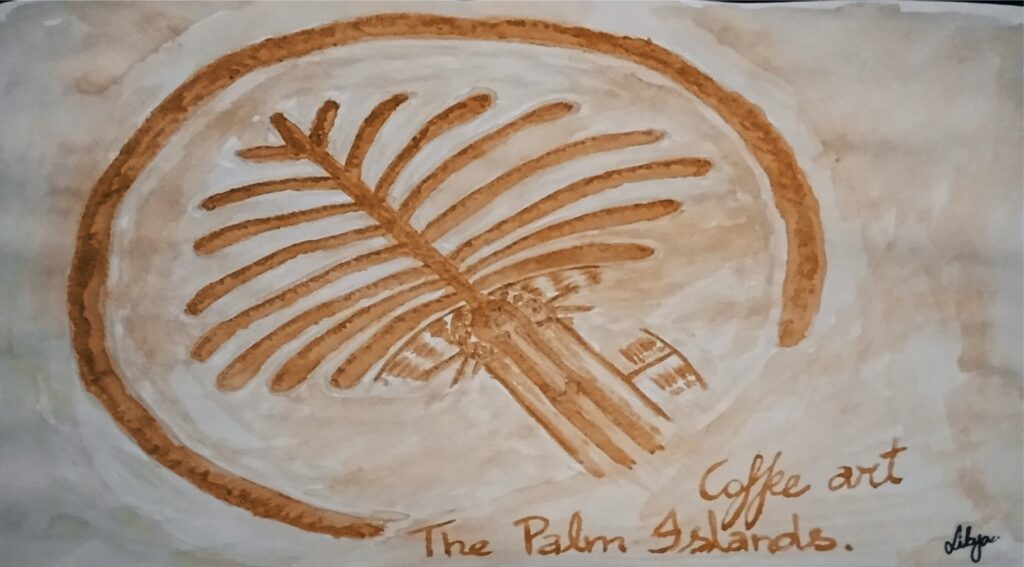 Art supply companies are reticent enough about how they produce their paints. We may not know what chemicals are present in paints and how harmful they are unless they carry a warning label. While Natural paints on the other hand are non-toxic, no petrochemicals are used, no hazardous by-products, less energy to make and they also have a breathable finish. We can make our own paints by foraging local pigments from rocks, by turning berries into ink, natural dyes can be obtained from beetroot or other vegetables or fruits, oils and egg tempera paint from the land. Khadi Prakritik Paint is an eco-friendly paint that was recently launched in January this year (2021) and is certified by the Indian Bureau of Indian Standard. It is made from cow dung and yet odourless, it has properties like anti-fungal, anti-bacterial, non-toxic and cost-effective. Air-Ink by Graviky Labs is one such invention, where the ink is made out of air pollution; unburned carbon soot that comes out of the exhaust pipe of cars, chimneys & generators. Various artists and muralists from around the world are using Air ink and have also delivered positive feedback. Another startup known as Carbon Craft Design (Mumbai based company) is turning air pollution into single handcrafted tiles. This company has become the world's first manufacturer of carbon tiles. Carbon Craft Design partnered with Air-Ink to produce these tiles. It is believed that one carbon tile is equivalent to cleaning 30,000 litres of air which ultimately results in a day of clean air for one person.
The idea of Sustainability in art has led to innovative works that gain unique media and send powerful messages about climate change, policies and social injustice. It is through Sustainable art that artists hope to not only change how they work but to also inspire social consciousness and cultural change. Why artists look to sustainable practices, is because these practices are accessible and cost-effective, requires additional creativity which further enhances their skill, inspires social awareness and most importantly, benefits the environment. Sustainable action started with the Brundtland Commission which was created by the United Nations in the year 1983, followed by various other actions taken by International, National or Individual organizations. In 2015, the 2030 Agenda for Sustainable development was created by the UN. Goal number twelve is most associated with the Art World, it looks upon responsible consumption and production. Sustainable art may be understood as the art that is produced keeping in mind the impacts on the environment. As the awareness of environmental protection grows, more artists are contemplating the wider impacts of their creations or outputs. They are prioritizing the environment and Sustainable art is receiving a close review.
"The views and opinions expressed in this article are those of the author and do not necessarily represent the views of The Renaissance" 
---